Combine the character-building potential of community service and cultural engagement with the thrill of exploring the highland jungles of Northern Thailand. This is the kind of overseas adventure students dream about.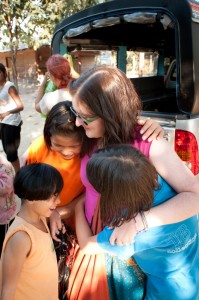 The elephant is the symbol of Thailand. In the old days, these enormous animals hauled timber for loggers, carried warriors into battle and served Thai society in other ways. Thai people have been training elephants for centuries, and the tradition is still alive today.
As part of your adventure, you'll journey to the countryside where real trainers (mahouts) work with elephants to put together exhibitions for visitors. There's even a mini-trainer course as part of this package, where you get a behind-the-scenes look at a day in the life of a mahout.
Zip Line Adventure
It's one thing to hike through the jungles outside of Chiang Mai. You can pick your way along a trail, hop over a stream or two and admire a waterfall. But you haven't really had a chance to admire these Southeast Asian jungles until you've had an aerial view.
We'll ramp up your adventure, and your adrenaline, with an all-day zip-lining canopy tour. The trip is safe and well-regulated, and your guides know the jungle from top to bottom. You'll speed through stands of old-growth forest, perch on top of spectacular waterfalls and enjoy a well-deserved lunch in the treetops.
River Boat Cruise
Finally, your entire group can come together for a dinner cruise along Chiang Mai's Ping River. This Chiang Mai's old-world expressway, but you'll be enjoying in modern fashion. Sharing a freshly prepared Thai meal along the way gives everyone in the group the chance to come together and reflect on the week they've spent together.
Highland Adventure Student Volunteer Group Project Fees
The project fee in Thai Society and Way of Life is $1250 US Dollars per student.
Project Fee Includes:
Visit and Work at 2-3 different community service sites
Cultural dinner and show
Half day Orientation (including Thai language and Culture sessions)
Half day city tour of Chiang Mai
Chiang Mai Night Bazaar Visit
Half day Thai cooking course
Half day Muay Thai course
Visit to History Museum
Meet students at a local school
Half Day Elephant Camp visit and mini-elephant trainer course
One day zip lining adventure
River Boat dinner and trip
Chiang Mai Night Bazaar Visit
All transportation while in Chiang Mai
All meals
24 Hour Emergency Support
Project Fee Does Not Include:
Flights (transportation to/from home and Chiang Mai
Travel Insurance